OUR MISSION
To provide professional grade custom products at affordable prices, helping every school, team and business stand out from the crowd!
>>Our Story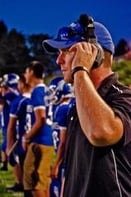 After years of coaching high school football I've seen darn near every fundraiser out there. For the most part they took too much effort and the return didn't justify the time and effort.
During my coaching career I admired the game day atmosphere, and I saw firsthand that America's love for tailgating had spread to the high school level. Despite an abundance of division one collegiate and professional team merchandise, customized high school and club team products were were simply unaffordable or worse yet unavailable.
I founded Prep Tailgate to enhance the unbeatable atmosphere of game day. Our platform allows you to join up with your local sports team community to customize your tailgating gear and represent your favorite team be it baseball, soccer, football, or track and field from youth leagues to high school and beyond. From instant canopy tents, to folding chairs and team apparel – we want to help you show your support from the first game to the last. Work with the best in athletics fundraising.